Photos by Emily Daily
Events are always more fun if you have a friend or two to share them with, right? There's nothing like receiving your ribbon, taking a victory lap, and hearing your friends cheering you on. There's also nothing like parting ways with your horse on cross-country and chasing him for 10 minutes, only to return to your stalls to get a hug and a few words of encouragement from your riding buddies. Having people there for you is one of the great things about competing with a farm or on a team, per se.
At this year's AEC, we witnessed a new level of teamwork and friendship from a group of riders from a farm in Maryland who made the trek to Illinois. This group always had smiles on their faces and even decorated some of their horses with sunbursts and pirate symbols clipped into their haunches. Meet the team from Full Moon Farm…or as they were come to be known over the loudspeaker, the Full Moon Farm constituency.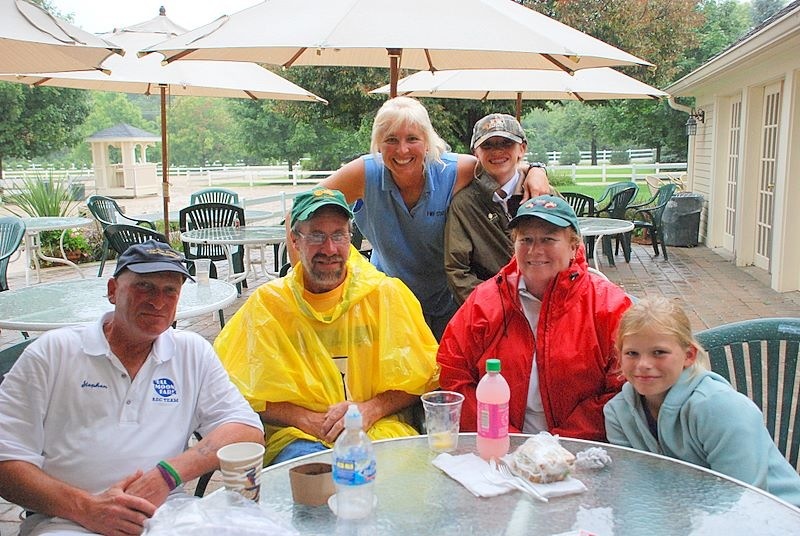 A grand total of about twenty people (riders, parents, grooms, and owners) made the 730 mile journey from Finksburg, Maryland to Lamplight Equestrian Center in Wayne, Illinois with the Full Moon Farm team. Seven of those people were competing in the competition on ten horses. It even took three trucks and trailers about fourteen hours to transport the group there!
(Left: A handful of the Full Moon Farm gang pose for a photo op.)
Needless to say, the trip was expensive (check out their t-shirts at the top)! So the team from Full Moon Farm banded together to get some sponsors to help them make their journey. Dover Saddlery was one of the companies who were a part of Full Moon's trip, as well as several local tack shops and other businesses.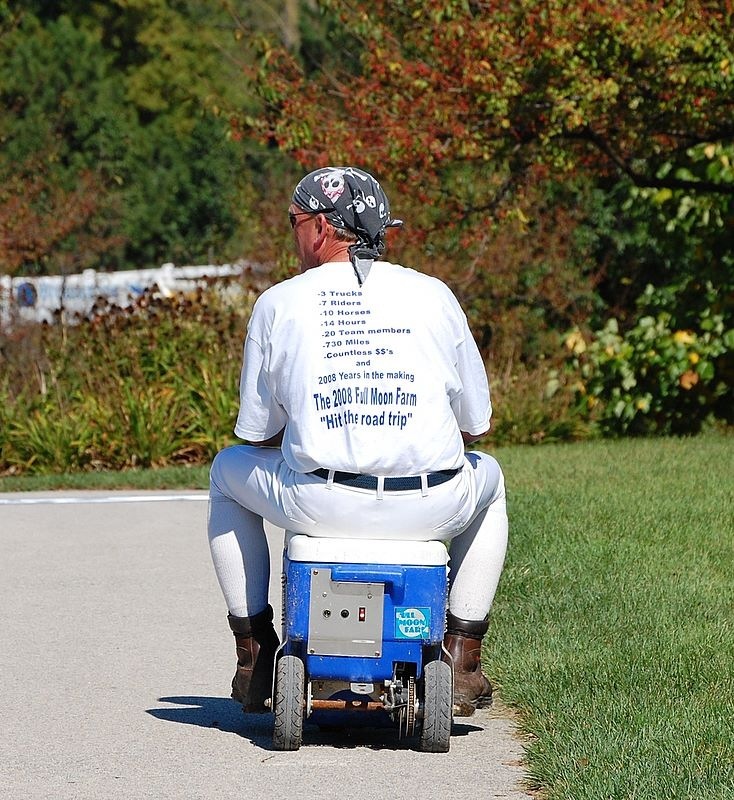 Best of all, the group was so proud of their accomplishment of getting ten horses qualified for the AEC that they had shirts made up for all of their members. The 2008 Full Moon Farm "Hit The Road Trip" shirts were everywhere at Lamplight and drew lots of well-deserved attention to the team.
Full Moon Farm is owned by Stephen and Karen Fulton. Stephen is a farrier, who also competes as an amateur, and Karen is the head trainer and instructor at the farm. Although Full Moon Farm specializes in training and giving lessons, Karen and Stephen also enjoy breeding horses on the side.
(Right: Full Moon Farm groupies know how to have a good time – Stephen rides not only his horses, but his motorized cooler at the AEC!)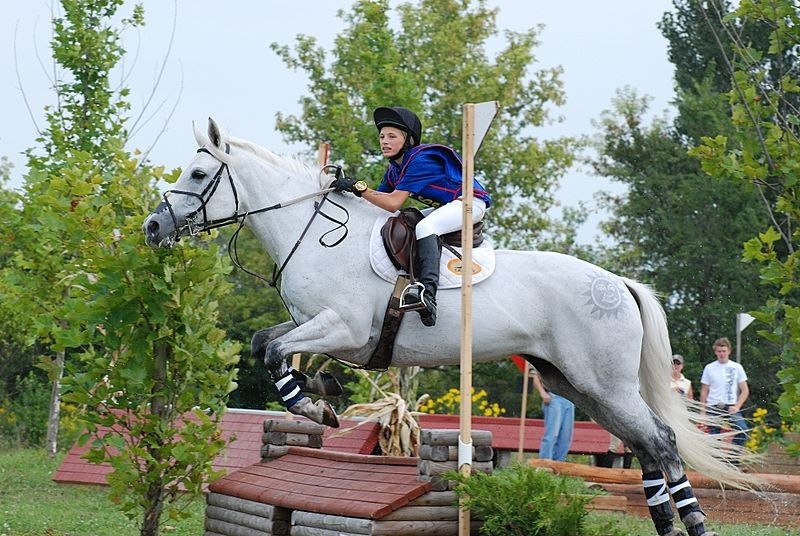 "We breed Percheron / Thoroughbred crosses," Stephen said. "The breeding is definitely more for fun. We had four foals one year…never again! We'll stick to one or two a year. It's a lot of fun bringing the young ones along. It's pretty neat when a home bred is successful in competitions."
At this year's AEC, Karen explained, several Full Moon home breds competed, and many of them were very successful.
"There are four siblings here," she said. "There are two full brothers and sisters, and two half-brothers and –sisters."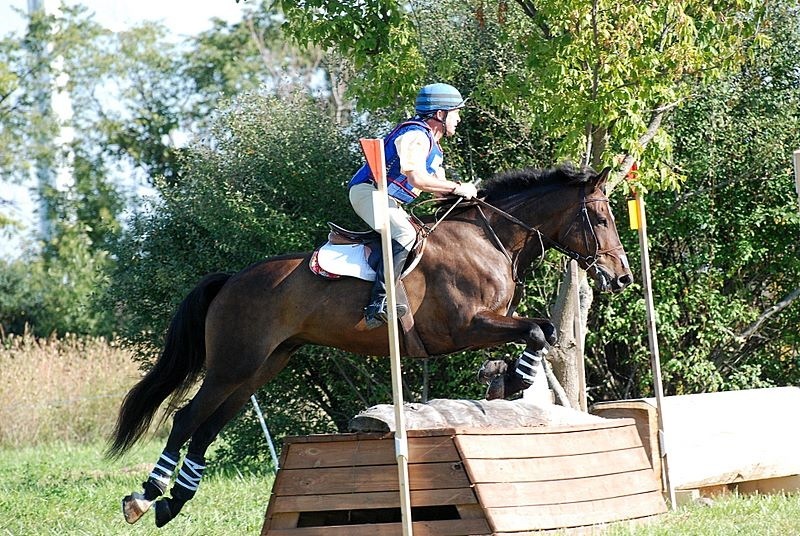 It was the first AEC for many of the riders from the Full Moon Farm team, and everyone completed their events safely and successfully. Some of the highlights? How about Savannah Fulton's FMF's Partly Foggy placing twelfth in the Beginner Novice Junior Division after starting her eventing career in May of this year (pictured above left – check out that awesome clip job!). Or Stephen and Full Moon's Manilla Bay placing 22nd in a Novice Amateur division jam-packed full of Olympians and upper level riders (pictured at right). And of course, 26-year-old FMF's White Out completing the AEC with Alex Otto on his dressage score.
Congratulations to the entire Full Moon Farm team and we look forward to seeing you at next year's AEC! Be sure to visit their website at www.fullmoonfarm.com!
Check out how the rest of the Full Moon team did at the AEC!
| | | | | |
| --- | --- | --- | --- | --- |
| Rider | Horse | Owner | Division | Placing |
| Mary Ballew | General MacArthur | rider | NJR | 20th |
| Maddie Cooper | Whistlin' Dixie | rider | BNJR | 17th |
| Savannah Fulton | FMF's Partly Foggy | rider | BNJR | 12th |
| Stephen Fulton | Full Moon Farm's Manilla Bay | rider | NH | 22nd |
| Stephen Fulton | FMF's Ides of March | rider | NAM | 17th |
| Stephen Fulton | Louie | Beth Bitzel | BNH | 13th |
| Casey Muller | Claremont | rider | BNJR | 27th |
| Alex Otto | FMF's White Out | Karen Fulton | BNJR | 31st |
| Madeline Plaut | Phat Tony | rider | BNJR | 23rd |
| Rebecca Stachlinski | Bonehead | rider | BNJR | 14th |
Photo Gallery