In 2007, three-day event rider Kim Meier was paralyzed from the shoulders down in a freak horseback riding accident. Proceeds from the sale of
Finding My Distance
will be donated to Kim and her daughter, Kelly, to help offset staggering medical costs and other living expenses.
Buy Finding My Distance today! (Check back later for exerpts and reviews from this wonderful book!)
This is Kim's Story.
Kim Meier was born with her boots on, but the Long Island suburb where she chocked her wagon didn't come with a lot of hitching posts. "You can go back 100 years on either side of the family and nobody had horses. They just walked around or rode trolley cars."
Kim's connection to horses – their size and smell and the sounds they make trotting and grazing and talking to each other – was immediate and has lasted a lifetime. Her parents were teachers. Her father taught art and her mother taught physical education. Getting artistic with horses and getting physical with them was a natural outcome.
At age four she hit the big time. "My mother bought a summer girls' camp in New Hampshire. We'd go there on the weekends and all summer long. Of course I rode and when I was eight started taking lessons on Long Island too. We moved to the camp for good when I was eleven. That was also when my parents devised a plan to help me lose interest in riding. They made me do all the work. Obviously their plan backfired. I went from two ponies to four to seven to twelve and I trained them all for the summer camp riding program."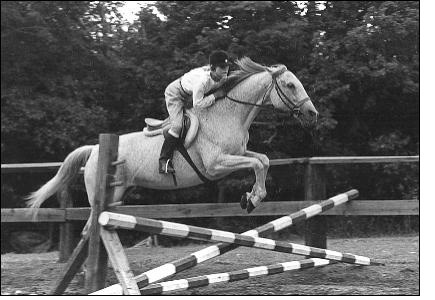 Kim's parents fed carrots to horses on the ends of pitchforks. Not having any experience with riding meant they weren't able to correct her position or her jumping style. Kim had to learn to correct herself. She got used to doing it herself and doing it alone, from posting trot to digging post holes.
"My mother's next brainstorm was to make me do pony club. She took me to the toughest club in New England, which was GMHA in Vermont. Unfortunately I loved it. I was up for my A rating three times but just missed each try. One of my legs is longer than the other and I was told my horse drifted left because of it. The next year I was told my horse drifted right."
Kim's best move during her GMHA years was to get involved with Denny Emerson. "He could coach you every stride without getting in the way. After a few years he let me manage his Vermont training program which was a lot of fun. Later when I wanted to start breeding my own horses he helped with that, too."
Kim's youth wasn't completely one dimensional. Although she disliked team sports, occasionally she picked up a water color brush or a tennis racquet when the moon was right. And if she wasn't holding onto reins she was holding onto apron strings. Those belonged not to her mother but to her grandmother. "I loved her so much. She lived in a small gate house at the girls' camp. I followed her around the kitchen all the time, chopped everything known to man, learned about herbs, breads, cakes, icings. She was from Czechoslovakia so it was a lot of Middle Earth stuff: vegetables that ripen underground, meat, sausage, a couple of gypsy spices."
We're sitting in Kim's kitchen while she talks. This is very special real estate to her even today. She keeps photographs in here of her Rolex horse Test Run, some of her dad's paintings, a three ring binder of her family's recipes – all her most prized possessions. Kim's spice rack wouldn't be complete without a few tiny jars of sarcasm perched between the sage and thyme. "You don't have to do that," she says when I get up to rinse some lunch plates before putting them in the dishwasher. "It's one of those old-fashioned models that actually clean the dishes for you."
It isn't long before we're back on the topic of her grandmother. "For most people the honeymoon is the best part about getting married. For me, the best part was having my Gran dance at the wedding. When she died a few years later she left me a small purse I used to buy this farm. So in a way she's still here with me."
Kim's grandmother also gave her a hand in upper level eventing. When her two star horse Moon Pilot died from colic, Denny introduced her to someone who knew of a horse near Cape Cod. Kim asked her grandmother for $5,000 – an unbelievable sum in everyone's eyes. She was given the gift, but the owner wanted six thousand. "The hardest thing I ever did wasn't Rolex or Burghley – it was going back to my grandmother to ask for another thousand." Kim started that horse from scratch and was thrilled when Luke became her first three star horse.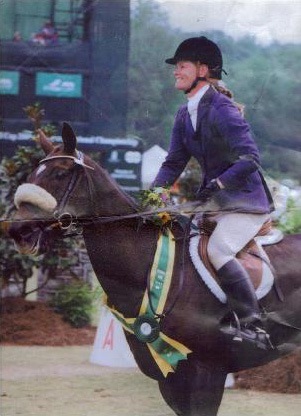 "Once we had the farm, breeding made so much sense." Among her many accomplishments, Kim is able to boast of having started five of her six big time horses. Four of these she also bred. "When you start with that 80 or 90 pound foal and bring him along and teach him to steer and then to run and jump – well it's the most incredible way to develop a partnership."